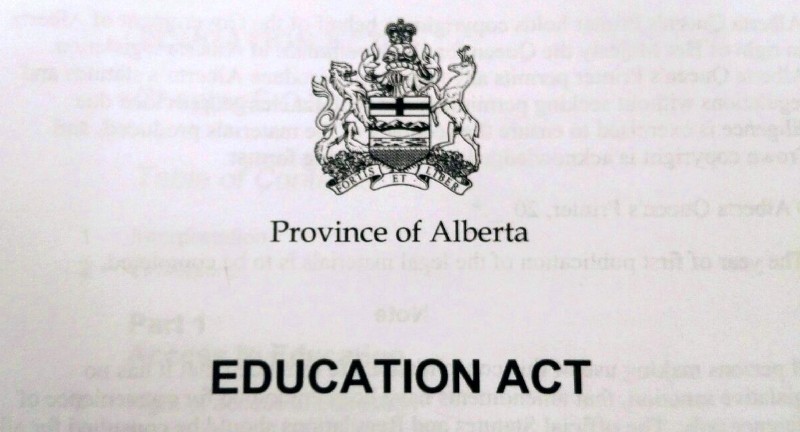 While most school work is wrapping up, Hon. Minister of Education Adriana LaGrange is getting down to business after these first few weeks of settling into her office and up to speed. She continues to have as her Deputy Minister Curtis Clark, who has been in this ministry for quite some time.

The UCP had promised pre-election to read in the Education Act that had already passed the required three readings and was ready to be enacted. However, it will not be introduced as is. This Monday, the Minister is scheduled to introduce Bill 8 – Education Amendment Act, 2019 with a second reading scheduled for this Thursday afternoon. What will these amendments entail? We have yet to find out.

What we do know is that everyone is brushing up on their familiarity with the Education Act. Interestingly, the President of the Public School Board's Assoc. for Alberta is publically calling on the Minister to delay the implementation for 1 year, as they would like more time to review it and further consultations. The issue of growth funding for increased student counts is looming large as well, and that is anticipated to be tackled on Monday as well with Bill 6 being introduced – the Appropriation (Interim Supply) Act, 2019 by Hon. Minister of Finance Travis Toews. Again, we shall see.

The AHEA Board is reviewing the Education Act and looking forward to seeing what type of amendments Minister LaGrange is going to table. This will be a revealing indication of the direction that she is going to pursue. I encourage you to be in prayer for us as we look to advance the interests of home education and resist bad law being enshrined. We also ask that you pray for Minister LaGrange, that she is able to be a strong advocate for the parental rights and responsibilities that she has worked so hard on over the years.