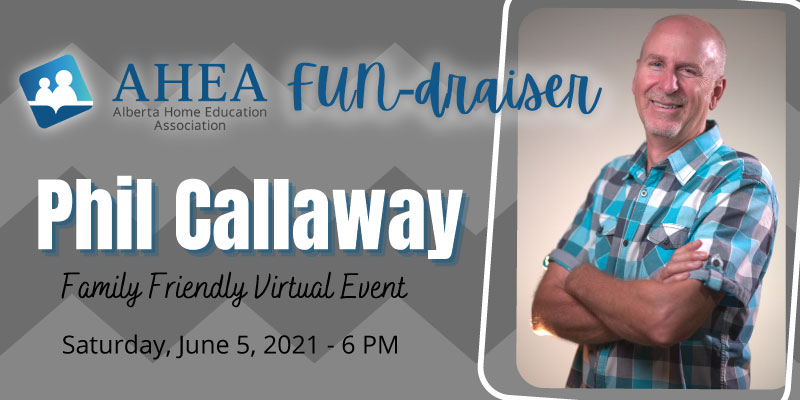 Phil Callaway - Fundraising Event in Support of AHEA
Saturday, June 5th | 6:00PM | Family Friendly
Laugh Again: Finding Sanity, Success, and Significance in Crazy Times
Phil Callaway will be offering up some desperately needed laughs and encouragement for home educators and families so make some popcorn and relax together on the couch while enjoying Phil's performace and supporting AHEA's many efforts to serve the home education community.
Phil Callaway is an award-winning author, speaker, daddy of three, and husband of one. The best-selling author of 27 books, he hosts the hit daily radio show Laugh Again which airs across North America, the UK, and Africa (to name a few). He is a frequent guest on national radio and TV, and his humorous stories on family life have been featured in hundreds of magazines worldwide. Still, he insists his greatest achievement was convincing his wife to marry him. Phil lives in Canada with his high school sweetheart who usually finds him funny.
AHEA Graduation Ceremony
Please note: The Graduation Ceremony has been cancelled due to moving to digital format. Those who purchased tickets will receive an email with refund process details.
Speakers, events, and schedule subject to change without notice.