Terry Yaceyko
President
Terry Yaceyko
Terry is the wife of Richard and they have been happily married for 27 + years. They have 4 daughters and she has enjoyed their home schooling journey over the past 20 years.
She is very passionate about practically supporting home educators and loves talking about and encouraging home schoolers!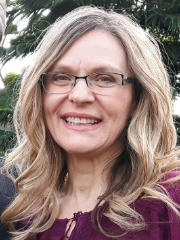 Shannon Tederoff
Vice President,
Convention Team Liaison
Shannon Tederoff
Shannon Tederoff is the mother of seven children and has been home educating them since the beginning. She is a former public school teacher who never dreamed of home schooling until she had her own children! Her children range ages from kindergarten to young adults. She takes a specific interest in the Convention related planning and this past year did work on the Government Liaison Committee. She would like AHEA to remain strong and be an encouraging and effective presence for the home education community in Alberta! She values the importance of working to protect our freedom to home educate.
Brent Feyter
Secretary
Sandra Gullacher
Home School Support Groups Liaison,
Convention Team Liaison
Sandra Gullacher
Sandra has attended AHEA conferences for eighteen years. She always looks forward to the annual learning and refreshment the AHEA conference guarantees her. Home schooling is a lifestyle her family cherishes.
Sandra's husband has always supported their three children's home school journey. With two graduated and successfully navigating post secondary and work, Sandra's attention is on her last student. Sandra felt it was time to give back and is honored to contribute to the home school community as an AHEA board member.
Tracy McNichol
Special Needs Liaison
Richard Yaceyko
Government Liaison Team
Richard Yaceyko
Richard has been happily married to Terry for 27+ years and has 4 daughters (25, 20, 14 and 12). The older two girls graduated from their home school. Richard works in construction and sits on Town Council. He has seen the fruits of home education and is happy to volunteer on the AHEA Board, to encourage Home Education in Alberta, and to support parental freedom in traditional Home Schooling.