Originally published in the Fall 2010 issue of the Home Matters Magazine
When I was a kid, I'd often get asked what I wanted to be when I grew up. My answer would change with the moon. I tended to favour the exciting jobs like a firefighter, policeman, pilot, and of course farmer. Being allergic to desks had narrowed career options slightly, but it still left plenty of thrilling possibilities. Then kid-hood faded, and reality took precedence. Having enjoyed helping dad on the farm, I decided to look for employment that complemented farming, upon completion of high school.
And so, in January of 2001, as a homeschooled 19-year-old, I was hired at a welding firm in Red Deer called W. McKee Manufacturing. Now, I should tell you that this isn't just an ordinary welding shop. This company specializes in building and servicing manure spreaders (and yes, some days really stink!) but because it's a manufacturing company the diversity within it is astounding. Fabrication, welding, machining, wiring, hydraulics, mechanics, pneumatics, blasting and painting ... this shop did it all, and it catered to my enjoyment for diversity.
During my first year at McKee, the owner offered to apprentice me as a welder. Even though I wasn't doing a lot of welding, and enjoyed it that way, I saw it as a good opportunity and signed up for the apprenticeship. I knew that Red Deer College required homeschoolers without a diploma to write an entrance exam (my older brother had just registered for apprenticeship as a welder and had to write a GED). I also knew that because of the credibility of the homeschool community in the Medicine Hat area, Medicine Hat College welcomed homeschoolers and did not require a diploma or entrance exam for the welding program at that time. So, thinking I'd outwit the system, I moved just outside Medicine Hat to my mom and dad's farm for the duration of the eight-week schooling.
Having taken my first year in Medicine Hat, I then continued my apprenticeship and took the second and third years of technical training at Red Deer College. Classes were a little different than Medicine Hat's had been. Because Medicine Hat College was so small, all classes had been given lecture-style. Now we were given the books to read and when we'd completed a chapter and felt ready for the test, we simply went to a computer, logged on, and took it. This allowed each student to work at his own pace. The instructors were there if we had questions, of course, and to teach us the techniques in the shop.
After completing my third year of technical training and apprenticeship, I eagerly awaited my welding ticket in the mail. A few weeks went by, and when I still hadn't heard anything from the apprenticeship board in Red Deer, I called them to see if there was a problem. They informed me that they could not issue me the ticket because they didn't have my Grade 12 diploma on file, and that I needed to come in and write the entrance exam that I should have written before I was allowed into the program (So much for out-witting the system!).
Puzzled, but to be sure I understood correctly, I asked if they really wanted me to write the entrance exam that was intended to see if I was capable of taking the course I'd just completed (and received a scholarship in doing so!) They affirmed that yes, this is what they wanted done. After hanging up the phone with the apprenticeship board, I contacted my homeschool facilitator and got him up to speed on what was happening. He in turn called the apprenticeship board and confirmed that I had completed all the requirements during high school, and that, as a certified teacher he had personally looked over my work and approved of it. A few minutes later I got a call back that my welding ticket was being mailed. Never underestimate the importance of your homeschool facilitator!
Now it's been about six years since I finished my welding apprenticeship. I'm still at W. McKee Manufacturing where I started ten years ago. And even though I am a ticketed welder, I have rarely spent a full day welding. Most of my time is spent in research and development and in maintaining the wiring and hydraulic departments. Yet I have never regretted getting my welding ticket; it proves qualification, without limiting the pursuit of other areas of interest. In fact, more than anything, it's been a building block to expand from.
Now, as my wife and I find ourselves to be second-generation homeschoolers, one of the many things that excites us about teaching our own children at home is the freedom we can give them to explore personalized occupational interests long ahead of the public sector. This will come through giving them resources, opportunities, and exposure to various career paths, even from a young age. We believe it will shape their own vocation for the future and the Godly integrity that accompanies responsibility.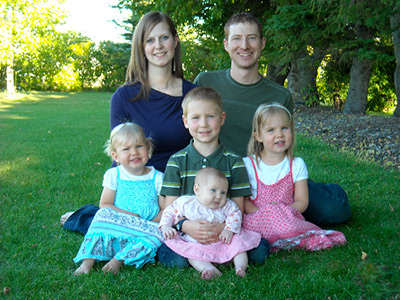 Jonathan and Carissa and their 4 children live in Red Deer where they enjoy attending Grace Community Fellowship and are part of the local homeschool community.