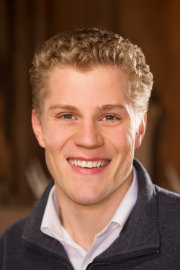 Daniel Craig
Youth Keynote Speaker
Daniel is passionate about home education, discipleship and the church. As a first generation homeschool graduate, he has a great burden to build on his heritage of Christian home-based discipleship. Married for just over 4 years and now with two little ones in tow, he and his wife Megan are in the throes of learning what it means to raise a family to the glory of God. They are also hosts for HomeschoolSummits.com, a ministry offering online encouragement events reaching thousands of families around the world. Daniel operates an accounting firm and is also the founder of LifeLaunch, a ministry with the mission of launching the next generation into life through powerful mentoring relationships and real-life application.
Scheduled Topics
The Power of Mentorship: Secrets to a Truly Higher Education
This session is a "must hear" for parents and students alike. Everyone recognizes that there are problems with traditional higher education. Yet for all the press, commentary and money spent to fix the problem, far too few people recognize the amazing benefits of one-on-one mentor-driven education. Even as homeschoolers, we often fail to realize that the need for biblical discipleship in education also applies to the college years. Get ready to adopt a new paradigm for "higher education" as Daniel explains how your student can launch into life NOW, with clear vision, through powerful mentoring relationships and real-life application.
The Key to a Significant Life
Do you want to live a significant life? There world offers young people a million ways to find significance, but how does God call us to find significance? Based on the Word of God, and the examples of young people in history, Daniel will help young people understand the true key to living significant lives.
Do Something! How to Engage Life for the Glory of God
No matter where we turn, we're facing an epidemic of visionless, clueless, fantasy-driven young people. Stuck in an education system which fosters this disconnect from reality, few Millennials, even Christians, are able to successfully bridge the gap into real life. From the perspective of a millennial, Daniel calls students and parents to adopt a new paradigm for his generation in light of God's word. Don't attend this session unless you are ready to be challenged with a new vision for life and an awakened understanding of the responsibilities God calls every young person to fulfill.
Five Secrets for Aspiring Entrepreneurs
What does it mean to be an Entrepreneur? Is entrepreneurialism just for a select few, or is it something that even young people should pursue? Regardless of who you are, or where you work, the Word of God gives us a number of fundamental keys to personal growth and true success in life. In scripture, we are taught that the basics of entrepreneurialism – responsibility, initiative and ownership – are important, not just for business owners, but also for young people who are just beginning to make their way in life. Now, you too will be challenged to think of yourself as an entrepreneur. In this session, you will learn 5 powerful, yet practical keys to developing as an entrepreneur. You will gain an understanding of why they are essential and how you can implement them.
Boy Meets Girl. What Now?!
So you kind of like this girl. Or you think he's cute. NOW WHAT? Marriage is a wonderful blessing from God, but the path to the altar often seems covered with broken glass – at least that's what the bloody feet of many couples would indicate! Getting back to God's foundational principles, and offering balance to recent homeschool applications, Daniel shares insights and admonitions with his peers from personal experience based on his recent marriage and having grown up in the homeschool/courtship movement.
The Forgotten Secret to a Good Long Life
Walk into any bookstore in America, go to the self-help section and see how many books claim, in some fashion, to provide "The REAL Secret to a Good, Long Life." Quite a few, right? But just how many do you think will tell you that the secret is to "Honor your father and mother that it may be well with you and you may live long on the earth"? Probably not very many.
Presented by a fella who has to work hard at honoring parents – just like anyone else, this practical session will get down and dirty with what it really means to honor your parents and why it's so important. (Hint: it's the first commandment with a promise…)
You won't hear this talk at your typical motivational seminar.