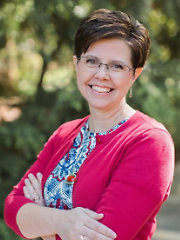 Sonya Shafer
Sonya Shafer is a popular homeschool speaker and writer, specializing in the Charlotte Mason Method. She has been on an adventure for more than 20 years studying, researching, practicing, and teaching Charlotte's gentle and effective methods of education. Her passion for homeschooling her own four daughters grew into helping others and then into Simply Charlotte Mason, which publishes her many books and provides a place of practical encouragement to homeschoolers at simplycharlottemason.com.
Provided Topics
Charlotte Mason And Her Methods
Join Sonya for a practical and encouraging overview of the simple yet effective methods used in the Charlotte Mason approach. You will learn about Charlotte and experience using her methods for yourself during the session.
The Five Flavors Of Homeschooling
The world of homeschooling is a lot like the world of food. You know that you want to provide nutritious meals for your children's minds, but there are so many possibilities for what that food could look like and taste like. Join Sonya for a simple overview of five main approaches to homeschooling: traditional, classical, Charlotte Mason, unit studies, unschooling. Find your preferred "flavor" and learn how to choose and use curriculum successfully.
Learning With Living Books
Good living books feed our children a feast of ideas, not just dry facts. Join Sonya for a look at this simple, yet effective, approach to true education. Learn what makes living books "living," and practice using them in a way that makes learning stick.
The Early Years: Homeschooling Your Preschooler
Give your child what is most important. Instead of academic or social pressures, Charlotte Mason encouraged mothers to give their little ones a full six years of developing good habits, getting acquainted with nature, exploring with the five senses, growing in their spiritual lives, and more. Learn how to give your child a quiet growing time.
The 5 Gifts of Intentional Parents
We parents give our children gifts every day. Some are survival gifts, given just to make a problem go away. Some are default gifts, carelessly copied from those around us. Our goal should be intentional gifts, purposely given to prepare our children for life. Discover the five gifts of intentional parents—all centered around the word TEACH—along with lots of practical tips for giving them.
Laying Down the Rails: The Power of Good Habits in Your Home School
Discover the secret to smooth and easy days: habit training. Learn how to instill good habits, which habits Charlotte Mason encouraged parents to cultivate in their children, and practical tips for cultivating the Top Three.