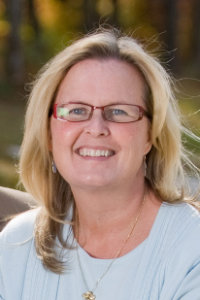 Megan Ann Scheibner
Megan was born March 13, 1962 and came home to her adoptive family March 15th. She grew up in York, PA and graduated from York Suburban H.S. in 1980. Four years later, she earned a B.A. in Speech Communications from West Chester University. She uses her degree as she teaches and speaks at conferences and women's ministry functions, as well as in individual and couples counseling.
Megan is the home schooling mother of eight beautiful children, four boys and four girls. She has been married for 29 years to her college sweetheart, Steve Scheibner. Together they have co-authored Parenting Matters, The Nine Practices of the Pro-Active Parent. She is also the author of a series of discipleship books for mothers and several devotional Bible studies. She authored, "In My Seat," the story of Megan Ann's 9/11 experience, that has captivated millions on YouTube. Her newest book, "An A-Z Guide For Character-Healthy Homeschooling" provides encouragement and practical tips gained through her 20 plus years of homeschooling experience. She is a popular speaker, guest on Family Talk with Dr. James Dobson, and TV personality on the Glenn Beck TV show.
Megan and her husband Steve share a strong desire to equip today's parents to raise the next generation of character healthy leaders. In her spare time, she loves to run and play tennis. Megan enjoys writing, cooking, feeding teenagers, reading, and everything pertaining to the Boston Red Sox.
Books by Megan:
Character Matters: A Daily Step-By-Step Guide To Developing Courageous Character
Eight Rules of Communication For Successful Marriages
An A-Z Guide For Character-Healthy Homeschooling
In My Seat: A Pilot's Story From Sept.10th-11th.
Grand Slam: A Four Week Devotional Bible Study For Christian Athletes.
Rise and Shine: Recipes and Routines For Your Morning.
Lunch and Literature.
Dinner and Discipleship.
Studies in Character.
The King of Thing and The Kingdom of Thingdom.
And her newest book: The Wise Wife
Provided Topics
The Disciple-Making Home
Being a Mom is about so much more than feeding, dressing, and driving our kids to play-dates. With only a few short years to impart important spiritual truths to our children, every day becomes an eternal opportunity for teaching, training, and modeling Christlikeness. The Disciple-Making Mom session will give mothers the tools they need to disciple their children in the most important areas of prayer, service, Bible study, scripture memorization, and true fellowship. Moms will walk away encouraged and strengthened, knowing that although discipling their children seems a huge task, God is on their side!
The Wise Wife
Although it's so easy to get caught up in our role as "MOM," the greatest gift we can give our families is to show them how much we love fulfilling our primary role as "WIFE." The Wise Wife session is jam-packed with practical ways to focus on becoming a wife who brings glory to God, delights the heart of her husband, and models a Christian marriage for her children. Being a godly wife is serious business, but you'll get plenty of time to laugh as Megan shares some "What the Heck!" differences between men and women. Come be challenged and refreshed in your most important role!
The A to Z of a Character Healthy Homeschool
If we homeschool simply to achieve high academic marks, we are squandering the opportunity to influence our children for Christ. Character healthy leaders are those children who have learned to elevate virtues above feelings. If we spend our homeschooling hours simply on academics and activities, we may win the praise of man, but we risk losing the hearts of our children. In our few short years with our children we must focus on the first things first and character is always the first thing! In this conference, Megan, a homeschooling mother of eight, will challenge your homeschoolers to use every opportunity to teach their children to serve God by loving others and to love others by faithfully serving God.
Battling With Behavior? (With Steve Scheibner)
Want your teen to take more initiative around the house? Want to reduce the "Drama" level in the family? Want to get your pre-teens, teens, and young adults excited about character healthy living? Join "America's Parenting Doctor," Dr. Steve Scheibner as he reveals seven practical steps to raising the behavior bar in your home. A Character Matters session will begin the process of moving your young people from ordinary to extraordinary.
Marriage, Communication, & Friendship (With Steve Scheibner)
Recognizing that a healthy marriage is the basis of a healthy home, this Marriage session is a fun and fruitful way to invest in your marriage relationship. Steve and Megan teach from their book The Eight Rules of Communication for Successful Marriages and finish the session with a fun-loving look at marriage and F-R-I-E-N-D-S-H-I-P. Practical advice in a guilt free environment make the teaching real and applicable to all those in attendance.