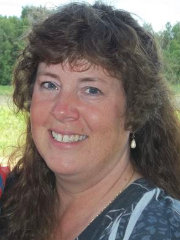 Wendy VanZandbeek
Skit Participant
Wendy has been married to Mark for 21 years and has five children – some by birth, some through adoption – ages 5 to 18. Her homeschooling adventure started 11 years ago when they pulled their seven-year-old out of public school, and they've never looked back! Using an eclectic approach to learning, they make great use of books, unit studies, delight directed learning and online courses. Wendy especially enjoys putting together mini unit studies that encompass all the ages, stages and learning styles of her kids. Wendy is the librarian to her local homeschool support group and loves her Lord, her husband, her kids, reading and tea mostly in that order.
Scheduled Topic
Skit: 'Homeschool Flavours'
Saturday 2:15-3:15PM | Frontier (Upstairs)
Classical? Unschooling? Charlotte Mason? Ever wonder which homeschool style resonates most with you? Join Olive Nature, Maxine Relaxin, Putem Together, Altha Boxes, and Nancy No-Nonsense in a fun panel discussion, where we have a little fun with several homeschool styles. Stick around until the end, where we will unpack these styles in a more serious way and answer any questions you may have!