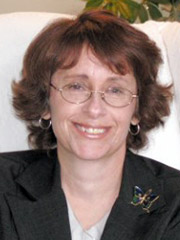 Sylvia Funk
Convention Speaker
Sylvia Funk, Neurodevelopmentalist, is an associate member of ICAN- an international group of Neurodevelopmentalists with the main office in Spokane Washington. Her company, PATHWAYS for NeuroEducational Development, has its head office in Okotoks, Alberta with branch offices in Ontario and Saskatchewan. Sylvia provides evaluations and individualized programs designed to meet the Neurodevelopmental needs of each child.
Sylvia's personal experience as a parent of a learning challenged child led her to pursue a career in this field. As she saw her son improve in all areas of function as a result of a Neurodevelopmental program Sylvia became convinced that this field needed to be made more available to struggling parents. Knowing that this field had a long history, first beginning in the 1940's with Doman and Delacato, Sylvia was determined to make this her life's work. Her previous work experience as a Registered Nurse provided her with the necessary prerequisite to begin the involved 5-8 year training process to become fully certified in this holistic approach. Sylvia is also trained in Samonas Sound Therapy.
Scheduled Topics
Unraveling Autism
Time Pending | Room Pending
To hear that your child has Autism or is on the Autistic Spectrum and then to see your child slip further into this illness as the gap between expectations and his ability to perform widens can be one of the most frightening experiences of your life. To not understand the strange sensory interpretations, social withdrawal, physical illnesses, cognitive delays or apparent behavioural displays is overwhelming and can place parents in an isolated and confusing place. ICAN Neurodevelopmentalists have worked with children on this spectrum for two decades. Our experience has helped many children and families overcome the impact of this illness.