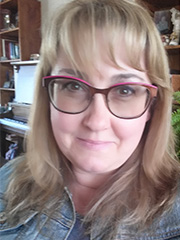 Sandra Gullacher
Speaker
Sandra has attended AHEA conferences for eighteen years. She always looks forward to the annual learning and refreshment the AHEA conference guarantees her. Home schooling is a lifestyle her family cherishes. Sandra's husband has always supported their three children's home school journey. With two graduated and successfully navigating post secondary and work, Sandra's attention is on her last student. Sandra felt it was time to give back and is honored to contribute to the home school community as an AHEA board member.
Scheduled Topics
Thursday 6:50-7:50PM | Salon B
Home educating is daunting to the parent contemplating this journey. A parent naturally asks; Am I qualified? How do I prepare? Where do I go for help? This session is designed to give you the basic tools to initiate your journey, give you confidence to go forward and help you begin to form a concrete plan. Even navigating through the abundance of curriculum at this convention can be challenging. Some tools will be given to help you buy what you and your students need. Home education is a gift your family may learn to embrace with open arms. Be encouraged and please come with questions.
Go to Topic Page
Support Group Leaders Luncheon
Friday 11:30AM-12:30PM | Lookout Room B (Upstairs)
This session is designed for home school support group leaders (and those considering initiating a home school support group in their area). Please come prepared with suggestions to share what is working in your support groups this year. Please be prepared to ask questions and be encouraged to help answer questions. We are in this journey together, let's support each other.
Go to Topic Page