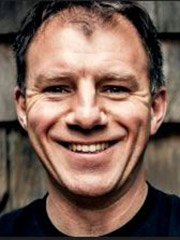 Richard Snyder
Speaker
Richard Snyder is the founder of Malachi Man Ministries which serves to encourage, equip and empower discipleship; first inside the home, then outside. After 12 years of full time youth ministry Richard recognized the needs in the home. He is passionate about helping all people grow in authentic discipleship. His simple, Biblical, gospel-infused approach is refreshingly authentic and practical. Often Richard has one of his 9 kids co-speak with him. He was a carpenter, engineer, and has a Masters in leadership. He relates well to people from various backgrounds. www.MalachiMan.com
Scheduled Topics
Teenage Challenges = Incredible Opportunities
Friday 1-2PM | Frontier (Upstairs)
Attitudes, wrong decisions, bad actions etc. all present great opportunities to guide their hearts in truth. Parents who avoid, domineer, or count the days till they leave home miss out on the best opportunities they'll ever have. Together let's seize the opportunities.
Breakfast for Dads: Clarifying our Most Important Mission
Saturday 7:00-8:00AM | Holiday Inn Chalet
Description pending.
Being Family Versus Doing Family
Saturday 2:15-3:15PM | Trailblazer I (Upstairs)
We live in a world that emphasizes doing; busy busy busy. Doing more is often less. Home is meant to be a peaceful haven marked by love, truth, transparency, growth, unity with resulting joy. It starts with doing less and prioritizing.