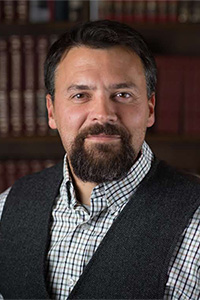 Rev. Dr. Joe Boot
Keynote Speaker
Rev. Dr. Joseph Boot (M.A., PhD) is a Christian thinker, cultural theologian, noted Christian apologist, founder of the Ezra Institute for Contemporary Christianity (EICC) and founding pastor of Westminster Chapel in Toronto. Proud to call Canada home, Joseph is originally from Great Britain and has worked in the fields of Christian apologetics and church leadership for over twenty years on both sides of the Atlantic. He has spoken and guest lectured all over the world at numerous university student events, seminaries, churches, colleges, and conferences. He regularly addresses pastors and Christian leaders as well as academic, medical, legal, and political professionals in the English speaking nations and has publicly debated leading atheistic thinkers and philosophers in Canada and the United States.
Joe did his undergraduate studies in Theology (Birmingham Christian College, U.K), earned his Master's degree in Mission Theology with a focus on the philosophy of culture and apologetics (University of Manchester U.K), and holds a PhD in Christian Intellectual Thought (Whitefield Theological Seminary, Florida, USA). A contributing author to Thomas Nelson's major Christian apologetics volume, Beyond Opinion, Joe's own apologetic works include Searching for Truth (Crossway), Why I Still Believe (Baker), and How Then Shall We Answer (New Wine). His most noted contribution to Christian thought, The Mission of God (Wilberforce Publications/Ezra Press), is a systematic work of cultural theology/philosophy exploring the biblical worldview as it relates to the Christian's mission in the world. His latest published volumes, Gospel Culture and Gospel Witness further develop this theme and serve as an introduction to a scriptural worldview and a Christian philosophy of culture.
Joe serves as Senior Fellow for the cultural and apologetics think-tank truthXchange in Southern California; is Senior Fellow of cultural philosophy for the California based Centre for Cultural Leadership; and is director of the annual Wilberforce Academy training program (Christian Concern) in Cambridge U.K, as well as faculty for the Alliance Defending Freedom's Blackstone Legal Academy in Washington DC. In 2011 he was recognized by Toronto's Centre for Mentorship and Theological Reflection as 'Best Preacher Apologist' for his contribution to apologetic and expository preaching. Joe is general editor of the Ezra Institute's journal, Jubilee, and is founding chancellor of Westminster Classical Christian Academy in Toronto. The Ezra Institute's new Centre for Reformational Culture is on the Niagara Peninsula in Grimsby, Ontario, where research, publishing and new programs of study are being developed. Joe is married to Jenny and they have three children: Naomi, Hannah, and Isaac.
Topics
The Death of Man and the Crisis of the Social Order
Man is God's image-bearer. Without love to God and a recognition of his Word-revelation to us in Christ and in Scripture, we are not only unable to truly love our neighbor, we cannot even rightly identify them. We find, in fact, that we cannot answer the most elementary question 'what is a human person?' Our rejection of God and the image of God in man leads to the endless defacing and destruction of that image, rather than seeking life and light in the triune God.
Christ & Culture (Parts 1 and 2)
Culture has been accurately described as 'religion externalized,' or more simply, applied beliefs. A person's ideal state of being is a profoundly religious question and we retain this basic association in our use of the related term cult to refer to a system of religious belief. Christians are God's new humanity in Jesus Christ and wherever God's people are, by the power and mighty working of his Spirit, the culture of Christ inescapably flourishes around them.
A Christian Heritage & Calling: The History of Christian Education
Education is not about getting knowledge; it is about being formed in the image of Christ. To be formed like Christ we need to be obedient. The historic concern of the Christian is to relate their faith in Christ Jesus and his infallible Word to the world, beginning in the family. This is the essence of Christian education.
The Myth of Neutrality: The Purpose of Education
The term neutral comes from the Latin 'neuter,' meaning 'neither one nor the other.' It has since come to mean an unbiased position, or an unwillingness to take sides. However, an allegedly 'neutral' position concerning education necessarily entails important beliefs about reality that are anything but religiously non-committed. For the Christian, reality cannot be 'neither one thing nor another' if it is created by God, and thus, an ostensibly 'neutral' or unbiased education is an illusion.
The Myth of Neutrality: The Content of Education
Ideas have consequences. The great gulf in purpose, content, and theory between a Christian and non-Christian education rests in the question of the uncreated, absolute, personal God. Christian education is comprehensive; it is not a mere condiment that can be added to flavour the otherwise neutral areas of life.