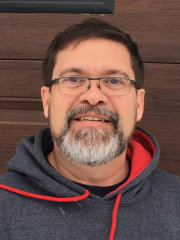 Gary Bergen
Panel Moderator
Gary, father of three children, has been married to Patricia for almost 26 years. He is the main sponsor of all projects that are part of homeschooling: horses, cows, dogs, butcher shop, gardening & green house..."This project brought to you by Dad." Gary enjoys winter, cutting & burning fire wood, reading, puzzles, and sharing their home with friends & family. The challenges he has as a homeschool dad include balancing all the above while still paying the bills, helping aging parents, and trying to find time for other interests in life.
Scheduled Topic
Dad Panel: 'The Important Job of a Homeschool Dad'
Friday 2:20-3:20PM | Frontier (Upstairs)
Description pending.