CLBI: An Ideal Stepping Stone
By Jeremy Osterwalder - Program Director
"I chose CLBI because it offered the perfect combination of academics and discipleship. It was a place where I could learn more about the Bible, but it was also a place where I could be challenged, mentored, and encouraged in my walk with Christ," stated Jessie Van Roessel, a former home educated student from Bow Island, Alberta.

Meeting the needs of the whole person (body, mind, and soul) is core to the educational philosophy at the Canadian Lutheran Bible Institute (CLBI), and its programs rest on this foundation. Students ready to spread their wings and leave home for the first time find both safety and opportunities for growth in the Bible school located in Camrose, Alberta.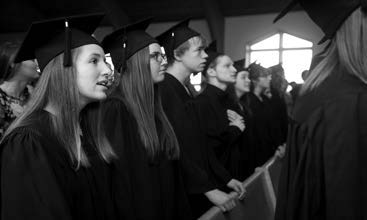 The academic pursuit of growing in Biblical understanding (head knowledge) is a key component of each day. Every morning (Monday through Friday) is spent in the classroom engaging in learning activities with an itinerant instructor who is on campus to teach the week-long module. Most teachers come from North America (with a few each year coming from overseas as well), traveling to Camrose to provide instruction. These professors offer a vast experience and unique perspectives as they guide the classroom events. Each week features a new course offering in areas of Biblical Studies, Christian Discipleship, Leadership and Missions.

The traditional education structure is frequently limited in the scope of what it can deliver to individual students. Home education is of great benefit because it enables a family to tailor learning opportunities to each specific child. Similarly, the small and tight-knit learning community at CLBI (50-60 students) prevents anyone from falling through the cracks and enables the school to address the individual needs of students.

Nathan Scrivens, originally from Ponoka, reflects on his experience: "Home education for me involved a very small class size (two siblings and myself). The relatively small size of CLBI made it easy to transition to a larger academic setting — as opposed to a large university or college with hundreds of people in a classroom. In addition, living on campus quickly made CLBI feel like home, and staff and classmates feel like family." Nathan has since gone on to complete his undergraduate studies (U of A) as well as a master's program (Information Technology Security, U of O) and is now living and working in the Ottawa area.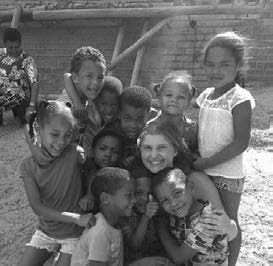 "CLBI provides an excellent opportunity to transition from home learning to a formal college setting. Instructors are authentic and available both before and after class, making classroom time a personal experience different from other traditional universities. Living in a tightknit community creates an atmosphere of support and care, making it easy to transition from home learning to a classroom environment," says Mariah Dewar of Langley, British Columbia.

In additional to academic pursuit, spiritual growth at a heart level is of equal priority. Each week students spend an evening in a staff member's home with a small group of students for fellowship, Bible study, prayer, and also outreach-focused activities. These staff members frequently spend one-on-one time with each student to help process issues pertaining to character development that occur through the various learning experiences of both the program and dorm life.
FUN FACT: Over half of the staff who work at CLBI have either been home educated themselves, or have homeschooled or are homeschooling their own children.
Recognizing that too much time in the classroom setting can become stagnant, the CLBI program intersperses wonderful week-long adventures. Some of these escapades include outdoor activities such as canoeing, hiking, and even winter camping. Other weeks include hands-on learning opportunities serving in homeless shelters, soup kitchens, etc. A capstone event in the diploma program (two-year experience) is a one month experiential learning opportunity wherein students are divided into groups of 3-4 to travel internationally, joining missionaries and supporting their work.
A side benefit to all of these experiences is the development of rich friendships with classmates and staff. In addition to the regular program, there are ample opportunities for optional involvement in recreational sports (indoor soccer, basketball and volleyball are weekly options), music (worship teams), and serving in the local community.
FUN FACT: CLBI has been the meeting place for weekly practices of the Central Alberta Home School Choir (director, Debbie Zepick) each fall.
Many students in their late teens and early adulthood need an experience away from the safety of home as they head towards a career. Most want to find a place of greater objectivity as they consider their own lives and God-given gifts, yet are at a bit of a loss as to how to proceed. "I wanted to go to Bible school as a 'gap year' to ground my life in Christ, before moving forward in my independent life. I chose CLBI because it has unique programs. They've created a school year with a taste of everything: outdoor trips, creative projects, service practicums, and weekly modules, instead of semester-long courses. I wanted to grow spiritually, but not feel like I was in church for a year, and CLBI delivered. Bible school is a sweet spot between taking a year off to work or travel, and going to college or university and hitting the books hard. It's a place to keep your mind engaged, while still searching for your life's direction — a place to have fun, make friends, have adventures, and still expand your mind and deepen your faith," says homeschooled student Tovah Bauer (Ponoka, Alberta).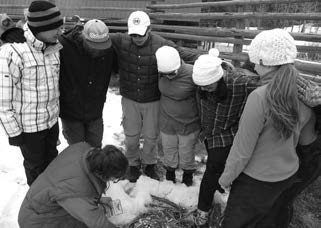 "CLBI really helped me make the transition from life at home to be equipped for life in the real world. Not only did I learn about the Bible and the plan God has for my life, but I also had the opportunity to interact and build friendships with many amazing people.
Coming out of home education, I did not feel ready to transition to a big university campus. The tight-knit community at CLBI provided the perfect progression for moving away from home," says Zane Ausmus (Leader, Saskatchewan). Emma Johnson of Lakeville, Minnesota writes: "Since being home educated my entire life left the variety of my friendships a little lacking, CLBI was a wonderful experience of creating relationships with many different people who are all passionate about Jesus. I was cared for, strengthened, stretched, and encouraged in Christ and with true friends!"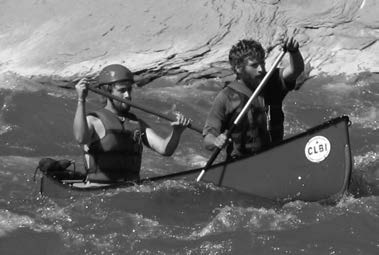 As a non-accredited institution, CLBI has great flexibility in its entrance requirements. The admissions process for all applicants is three references and a record of prior learning (this can be a high school transcript or submission of a learning portfolio). The CLBI Admissions Committee determines whether equivalency of Alberta's grade twelve requirements has been met.
For many home educated students, CLBI is an ideal step a way from home. Kerry McCune of Edmonton, Alberta sums up the experience that is common to so many homeschooled students:
"CLBI helped me make the transition to further studies by giving me classroom experience and confidence in my academic ability through interaction and feedback from many teachers. My time at CLBI also supported my growth as a confident adult in many aspects my life, not just the classroom. Having now just finished my first year in university, I can see in myself a confidence in social interaction, decision- making, and expression of my faith that was not part of me at the end of my time completing high school requirements.
"I didn't have a high school graduation or a full diploma prior to attending CLBI, and I was afraid I wouldn't be able to manage university studies yet, so Bible school seemed like a good solution. CLBI's small classes and focus on community gave me a safe place to explore my gifts and gain confidence, both in the classroom and out of it."
Offering unique opportunities for hands-on learning and adventure, challenging intellectual development, and addressing issues of the heart, CLBI truly does provide a comprehensive and rich environment to grow in maturity and wisdom.
For more information about CLBI, contact This email address is being protected from spambots. You need JavaScript enabled to view it., visit the website www.clbi.edu, or call 780-672-4454.